Architects and landscape artists worldwide have come up with some of the most aesthetic ideas that can make an empty place look like the most soothing corner of a house. Their terminology, however, has people confused. The differences between them are mostly unknown to common people due to their structure, shape, size, and purposes. Some of these structures include Pavilion, Gazebo, Pergola, and Arbor.
They all will seem similar to the common eye, but for a keen eye, apparent differences exist among them to notice. Hence, we will look at the differences between these structures to determine which design is the best for you between Gazebo vs Pergola vs Pavilion vs Arbor. Which one will complement your empty space and make it alive again?
Gazebo vs Pergola vs Pavilion vs Arbor – Detailed Comparison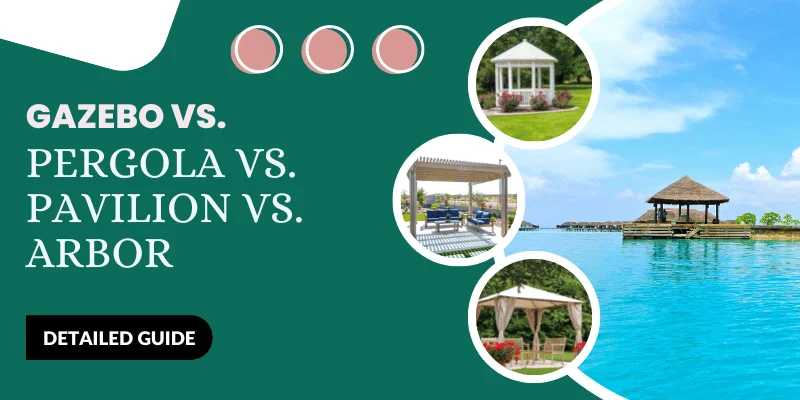 In order to make differences clear, three structures will be differentiated from each other at one time. The first three structures are Pergola vs. Gazebo vs. Pavilion.
What is Pergola?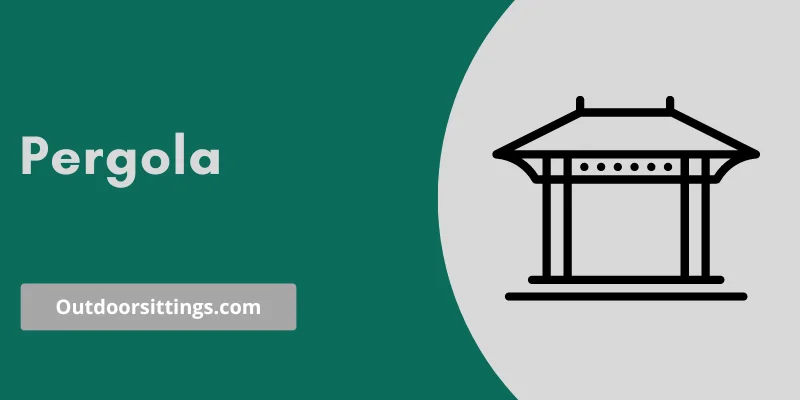 A pergola is known to be a square or rectangular-shaped structure with four corner posts with open sides and a partially covered roof based on the design. The basic structure has stayed the same over the years, but there have been massive changes in how they are styled.
The shade from the pergola gets affected by the plantation and the desired style of the pergola itself, which is why it can have a partial or fully-covered roof. This structure is very common and is mostly displayed in gardens for a lovely tea party, a cozy and comfortable place to sit and read a book, or simply to get away from work and enjoy the garden's surroundings.
What is Gazebo?
The second structure is the gazebo, which is an octagonal structure with eight pillars and is dome-shaped compared to a pergola, which is square or rectangle-shaped. The gazebo is a very common structure mostly seen in parks or gardens, but it is one of the simplest yet most beautiful structures.
A gazebo is said to be basic and old styled, but there are many elements attached to it that still make it look classic and beautiful as compared to gazebo alternatives, if designed in such a way. A gazebo is associated with an intimate and comfortable space where people can work, relax, do yoga, invite friends or spend time with their loved ones.
Though, in many movies, it is shown that couples dance in a gazebo which is decorated with fairy lights and light music, which is a vibe of its own, and the pergola cannot beat it.
Hence, this is something that is based on the choice of the person. If he wants to have sleekness and style, then a pergola is the way to go, but if someone is old school and wants a cozier and more relaxing place where he can spend cute and quality time with a loved one, then a gazebo is the way to go.
Pergola vs Gazebo: What is the difference?
Gazebos and pergolas have structural differences, like the number of corners and the types of roofs each structure has, but the purposes are still very similar. It can be to enjoy deep conversations in privacy with a friend or a loved one or just to listen to music, but you can enjoy watching the rain from a gazebo, but you can get wet in a pergola due to a partial roof.
Hence this is something that is based on the choice of the person. If he wants to have sleekness and style, then a pergola is the way to go, but if someone is old school and wants a cozier and more relaxing place where he can spend cute and quality time with a loved one, then then a gazebo is the way to go.
What is Pavilion?
The third structure is a pavilion. It is similar to a pergola but has a closed roof and is much more comprehensive to cater to a larger audience. Still, the similarities are that it has a square or a rectangle-shaped structure with four corner points.
A pavilion is the best structure to have if you have regular tea parties or you are always expecting a large audience of guests at your place who like to visit you for brunch or just for an evening visit. A pavilion requires a more extensive area, but a Gazebo and a Pergola can also be adjusted in a smaller space. A pavilion has a concrete base in the case for permanent use and is also used to hold small weddings.
Pergola vs Gazebo vs Pavilion: Which one is better?
A Pergola has a Square or a Rectangle roof with four corner pillars that are partially covered, while a Gazebo has an Octagonal and Domed Roof with Eight Corner Pillars. Unlike pergola, a pavilion with a closed roof has a broader structure that requires more space than a gazebo; hence, a pavilion should be placed in a wider and larger area.
A Pergola and Gazebo can be placed in a small area as well. For the purpose of shade, Gazebo and Pavilion are preferable; while the pergola has a partial roof, both other structures have a fully covered roof.
You may also want to know the difference between cabana and gazebo.
What is Arbor?
Arbor is a beautiful structure with a very different shape and purpose than all other structures. That is frequently seen in parks and gardens, which are connected with each other, and beautiful, round, and decorated structures often establish such a connection. These are often covered by green Ivy or roses, which can feel like a gateway to the other side of the park. Those structures are known as Arbors. There is a difference between an arbor and a pergola.
Two to four posts are made of a material like Iron, Wood, Steel, or Wood Polymer composite that can easily survive or withstand the outside environment or wear and tear outdoors. Often large-sized arbors are placed in sequence in a way that provides shade and acts as a walk where people can take a walk under the arbor, and often jogging tracks also have an arbor above them.
Such structures provide shade, and people can walk or jog under them on tracks. Moreover, arbors are placed in different marriage venues and act as a walkway for a bride and groom to walk under them. Hence the arbor has the purpose of decoration and providing shade based on the structure's design and is used for very few purposes, like a walkway rather than as a sitting area. Hence it is used by fewer people.
Difference between Arbor vs Pergola vs Gazebo
As mentioned before, an Arbor is mostly used for decoration, a walkway, or just for shade if multiple Arbors are placed together at a distance. Having a sitting area beneath an arbor is challenging because it is smaller and can be used as a walkway toward a gazebo or pergola.
In the case of the gazebo and pergola, they have a proper sitting arrangement underneath them and have different shapes and sizes from each other as well as from an Arbor but have more diverse and valuable purposes than an Arbor.
However, in case of a small area or space, an arbor is an excellent option as it can be made in a way that one person can have a small sitting underneath and will be suitable for just one person. Still, a pergola or a gazebo will be very well suited in case of a bigger space.
Pavilion vs Arbor
There is a big difference between these structures, which are also easily distinguishable. Arbor is a much smaller structure compared to a pavilion which is a large structure and occupies a massive area, compared to an arbor which occupies minimal space.
An Arbor can cater to a maximum of one or two people who pass by it. In comparison, a pavilion can cater to a considerable number of people, almost 6 to 8 people, as if there is a larger space and more furniture like sofas and tables and plantations can be used, or even patio furniture, which can make a pavilion suited a large number of people.
A Pavilion is rectangular or square in shape with a covered roof with almost four-point corners, while an Arbor is made of two to three Iron or Wooden Rods or two to three corner points and can have a shade if that is the design. Otherwise, it is open and has no roof.
Arbor is used just for decoration, while a Pavilion is used for sitting purposes and can be used to meditate and have a good relaxing time or for tea parties and hanging out with friends. On the other hand, Arbor is used as a walkway or an entry. It can also be used as a minimal seating area for one person where one can sit to do work, but it will only cater to one or a maximum of two persons.
You can also read about a difference between gazebo and canopy
General Differences In All Four Structures: Gazebo vs Pergola vs Pavilion vs Arbor
The four structures include pavilion, gazebo, arbor, and pergola; it can be seen that all these four structures are used as garden-scapes, to rest and relax. In addition, these are used for decoration and to fill up empty spaces in a garden and redecorate them in a way that makes the garden livelier and more beautiful for the garden owner to sit and relax in. However, all four structures have some general differences.
A Pavilion occupies a lot of space and is rectangular or square-shaped with a covered roof with 4-6 corner points. In contrast, a Gazebo occupies less space than a pavilion but is an octagonal shape with corner points and can cater to many people but less than a pavilion.
A Pergola is a square or rectangle-shaped structure which has four corner points but has an open or a partial roof; hence is not suitable for rain and caters to a small number of people as well, almost a group of three to four people which similar to gazebo while an arbor is tiny and is mostly used as a walk-through structure or used as a decoration covered with greenery, it is maximum for one or two people maximum.
Also have a look at a detailed comparison of pagoda vs gazebo
Is Pergola better than a Gazebo?
Several factors can affect the decision between a pergola and a gazebo. The requirements and the purpose of each can influence this choice. In terms of Style and Sleekness, Pergola is better; however, the pergola has partial shade and a design that cannot cater to rain, fall, or temperature-related issues.
A gazebo is associated with a close and comfortable space where people can work, relax, do yoga, invite friends or spend time with their loved ones. A gazebo has more of an old-school classical choice and an unbeatable old-school vibe.
Hence this is something that is based on the choice of the person. If he wants to have sleekness and style, then a pergola is the way to go, but if someone is old school and wants a cozier and more relaxing place where he can spend cute and quality time with a loved one, then then a gazebo is the way to go.
Final Thoughts
In the end, when we see the difference between Gazebo vs Pergola vs Pavilion vs Arbor, it is the choice of the Garden-Scape Artist or the decorator, which will be based on the person who wants to redecorate their garden and makes it want to look more lively and beautiful and find a comfortable and cozy spot for themselves.
For some, a gazebo can be cozier, and for others, a pavilion can cater to more guests, so it is the purpose, the size, and the location where it is placed that matters when making such a choice. Hence it depends on the consumer preference and the idea behind the particular structure and the purpose of its usage, which issues, and the importance they attach to its uses. For some, decoration purpose is more important, and for some, coziness and privacy are more critical.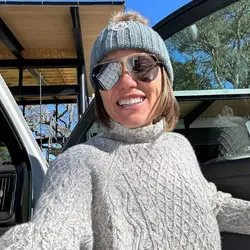 Hi, I am Nicole Arnold, founder of OutdoorSittings! I am very passionate about architect designing and love to design attractive gardens and backyards for people in Dallas. I have done Masters of Landscape Architecture (MLA) at Texas A&M University and have worked on several commercial and residential landscaping projects.
Following my passion for landscaping, I started OutdoorSittings to share my knowledge and creative ideas with people around the globe. Feel free to reach out to me at any time if you need assistance related to your backyard design or other outdoor architect queries.