Ever wondered what it would be like to have your very own gazebo in your backyard? Imagine having a space to relax, entertain, or just simply enjoy the outdoors without the hassle of the elements. That's where the Purple Leaf and Kozyard Gazebos come into play.
But what makes them different from each other and which one you should choose. To answer all such questions, I have shared a comprehensive comparison of Purple Leaf vs Kozyard Gazebo below.
Purple Leaf vs Kozyard Gazebo: Reviewing the Brands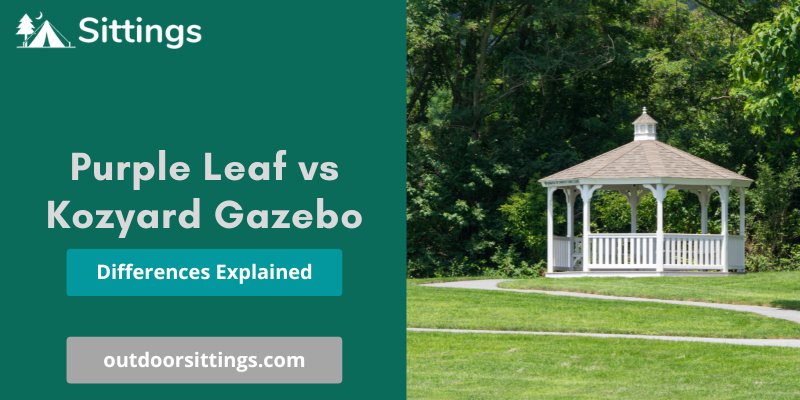 Purple Leaf is a well-respected brand in the outdoor furniture market, known for producing high-quality, durable gazebos, among other things. On the other hand, Kozyard is a popular brand renowned for its innovative, stylish, and affordable outdoor living products, including gazebos.
Features Comparison of Kozyard and Purple Leaf Gazebo
When it comes to Purple Leaf vs Kozyard Gazebo features, both brands try to outshine each other with quality and unique offerings. Let's look at the features below:
| Criteria | Purple Leaf Gazebo | Kozyard Gazebo |
| --- | --- | --- |
| Design | Modern and Sturdy | Traditional and elegant |
| Durability | High | High |
| Price | Higher-end | More affordable |
Design
Purple Leaf gazebos are known for their modern, sturdy designs. Purple Leaf often feature a high-peak roof and hard metal frame, providing a spacious and safe environment for relaxation.
In contrast, Kozyard gazebos offer a more traditional aesthetic with their classic shapes and designs. Kozyard often incorporate decorative elements and are crafted with a focus on comfort and elegance.
Durability
Purple Leaf gazebos are built to last. Their heavy-duty frames and high-quality materials ensure longevity, regardless of the weather conditions.
Similarly, Kozyard gazebos are also built with durability in mind. The brand prides itself on the use of premium materials and the incorporation of weather-resistant features in its gazebos.
Price
When it comes to price, there are differences between the two brands. Purple Leaf tends to be on the higher end of the price spectrum due to its premium materials and design. Kozyard, however, offers more budget-friendly options without compromising on quality.
My Experience with Purple Leaf vs Kozyard Gazebo
I like the Purple Leaf gazebo for its sturdy construction and stylish design. Its durability even in harsh weather conditions like heavy snow load is very good and that is the reason I recommended it as one of the best hardtop gazebo for snow load. Whereas, Kozyard gazebo is recommended if you prefer affordability and aesthetic appeal. I am impressed by the Kozyard's attention to comfort and design detail, as well as its resilience in different weather conditions.
Final Verdict: Which Gazebo is Right for You?
The choice between Purple Leaf and Kozyard ultimately depends on your personal preferences and needs. If you value modern design and are willing to invest in a higher-end product, Purple Leaf could be your pick. If you are looking for affordability and traditional elegance, Kozyard may be more your style.
Remember, the best gazebo is the one that meets your requirements in terms of design, durability, price, and user experience. Both brands offer quality products, but your personal preference will determine the best fit for you.
FAQs about Purple Leaf and Kozyard Gazebo
Are Purple Leaf and Kozyard gazebos easy to assemble?
Yes, both brands design their products with user-friendliness in mind. Most customers find the assembly process straightforward with the provided instructions.
Can I leave up Purple Leaf and Kozyard gazebos all year round?
While both Purple Leaf and Kozyard gazebos are designed to withstand various weather conditions, it's best to check the product specifications and care instructions for longevity.
How much maintenance do Purple Leaf and Kozyard gazebos require?
Generally, gazebos from both brands require minimal maintenance. Regular cleaning and inspection for any damage should keep them in good shape.
Do Purple Leaf and Kozyard gazebo companies provide customer support?
Absolutely. Both Purple Leaf and Kozyard are known for their responsive and helpful customer service teams.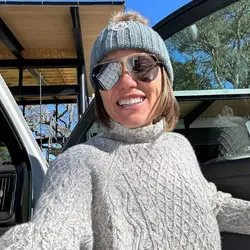 Hi, I am Nicole Arnold, founder of OutdoorSittings! I am very passionate about architect designing and love to design attractive gardens and backyards for people in Dallas. I have done Masters of Landscape Architecture (MLA) at Texas A&M University and have worked on several commercial and residential landscaping projects.
Following my passion for landscaping, I started OutdoorSittings to share my knowledge and creative ideas with people around the globe. Feel free to reach out to me at any time if you need assistance related to your backyard design or other outdoor architect queries.