Gazebos are an excellent option for people who like to sip their evening tea while sitting under the sky. These do not only provide coverage but save you from the rain.
Many people love using gazebos to add an aesthetic element to their backyard but fail to get suitable curtains. I used a few curtains and wrote an article to help them out. Read the details on the gazebo curtains so you can get full coverage without compromising the view.
Best Gazebo Curtains Overview
Top 3 Best Gazebo Curtains Review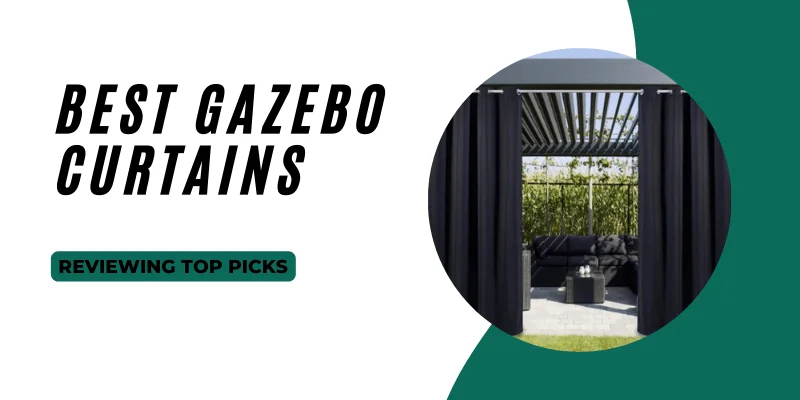 1. Hiasan Buffalo Curtains for Gazebo
Specifications
Material: Fabric
Weight: 3 lbs.
Dimensions: 95″L x 52″W
The Hiasan Buffalo Plaid Pergola Curtains are first on my list of the best gazebo curtains because they are made with water-repellent material.
These curtains are available in eight different colors and ensure privacy. They cannot be used as gazebo curtains only, but people use them in the porch area. These are great if you like sitting outside under the sky but want sun protection too. You will get a pair of curtains that might be enough to provide coverage.
I have used these buffalo curtains for years and like them because they are easy to clean. You can throw them into the washing machine, and they'll appear new. They can be used for a gazebo without worrying about the rain or the heat from the Sun.
The water-repellent material is used in the manufacturing process of these thick curtains. They come with tiebacks that help keep these aside when enjoying the view.
The Hiasan Buffalo Plaid Pergola Curtains have two sizes. These buffalo curtains are versatile and come to use for many other purposes. They are lightweight, affordable, and highly durable.
One of the reasons many people prefer them is that they are available in different colors. These can be matched or used in contrast with the exterior of your house or gazebo. Hence if you need easy-to-maintain gazebo curtains, these should be considered an option.
What I Like?
Eights colors available
Manufactured with durable material
Can be used for multiple purposes
What I Didn't Like?
Only two sizes are available
Why I Recommended Hiasan Buffalo Curtains
The Hiasan Buffalo Plaid Pergola Curtains are one of the best available in the market because they are made with good quality materials. These cover up your gazebo to block the sunlight or chilly winds. Eight colors are available to match these with your outer space. The only downside is that these come in two sizes which might not be enough for every gazebo. You can have a look at best hardtop gazebo for snow load.
2. DREAM ART Curtains for Gazebo
Specifications
Material: Polyester
Weight: 3.4 lbs.
Dimensions: 96″L x 54″W
Next, I have the DREAM ART Curtains for Gazebo on my list today because these are too good to be left out. These curtains come in pairs and are easy to use.
One of the benefits of using these is an easy setup. You can adjust the curtains on the rods of your gazebo to block the Sun or the dust when sitting under the sky. These have a standard side and are made with 100% polyester.
They can be maintained and cleaned easily by using a washing machine. As mentioned above, polyester is used in manufacturing, making them fade-resistant. You can purchase these in eleven colors, but the price will vary.
The only downside of these curtains is that they are not thick and flared. You can get enough coverage, but they might allow wind or rainwater because they aren't too thick like Hiasan curtains. For windy areas, you can choose a wind resistant gazebo.
The DREAM ART Curtains for Gazebo easily fix on 1.5″ grommets. These rods are rust-proof and can withstand heat and rainwater. I wanted to include this curtain on the list because they are lightweight. You won't need help setting or adjusting them on the rods. Hence, these can be a good option if you need simple curtains to block light.
What I Like?
Easy to set/adjust
Fade-resistant material
Affordable and lightweight
Why I Recommended DREAM ART Curtains
The DREAM ART Curtains for Gazebo are listed in the article because they are made with fade-resistant material. Even though they do not provide much coverage, they are easy to set on the grommets. You do not have to spend all your savings on these curtains. They are lightweight, so you won't need any help to carry them. Also, have a look at best pop up gazebo with netting.
3. RYB Covering Curtains for Gazebo
Specifications
Material: Fabric
Weight: 1.5 lbs.
Dimensions: 72″L x 52″W
The RYB Coverings are the third and the last pick today. These curtains made it to my list of the best gazebo curtains because they have great coverage.
However, I had to place these on the end because they aren't breathable but can help you black out. These are thick and durable, so you won't be able to see a ray of light crossing them.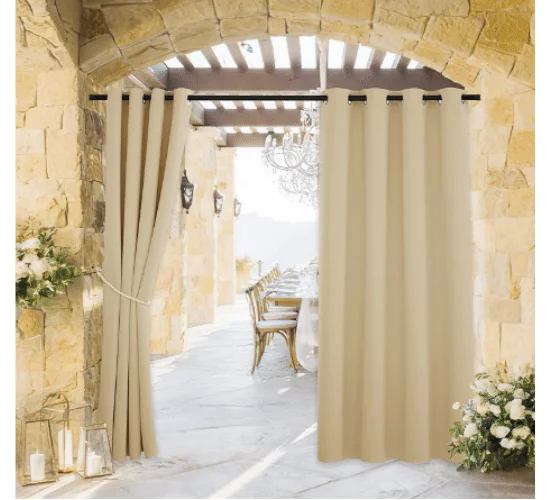 ---
These can be used for your gazebo because they are manufactured with waterproof material. You do not have to worry about them getting dirty because they can be washed in a machine. The RYB coverings have solid colors, so you can easily match them with your outer space. You'll get many sizes as every gazebo is not the same.
These coverings by RYB are thermally insulated. I recommend using them because they are great value for money. They can work best in all weather conditions, whether hot or cold. I have used these for two years and liked them. The wrinkle-free material looked new after a single wash. Hence, you should invest in these coverings if you have a gazebo in your backyard.
What I Like?
Made with wrinkle-free fabric
Comes in solid colors
Different sizes present
What I Didn't Like?
Less breathable and thick
Why I Recommended RYB Covering Curtains
These curtains by RYB are best for gazebos because they help in blocking all the sunlight. This can be an advantage and a disadvantage at the same time as you won't get enough air. You can get different sizes of these coverings, which saves you from the hassle of alteration.
How To Hang Curtains in a Gazebo?
To hang curtains in a gazebo, you will need a few basic tools and materials. By following these steps, you should be able to hang curtains in your gazebo and create a more private and comfortable space. Here's a step-by-step guide on how to hang curtains in a gazebo:
1. Measure and Plan
Determine the dimensions of your curtains and measure the sides of your gazebo where you want to hang them. Consider how many panels you'll need and how far apart you want them to be.
2. Choose the Gazebo Curtains
Select curtains that are suitable for outdoor use and can withstand the elements. Look for materials like weather-resistant fabric or outdoor-rated curtains.
3. Install Curtain Rods or Wires in a Gazebo
Depending on the design of your gazebo, you can either install curtain rods or use wires to hang the curtains. If your gazebo has a solid frame, curtain rods can be mounted directly onto the frame. Otherwise, you may need to install hooks or eye screws to attach wires across the desired areas.
4. Mount the Curtain Rods or Wires
Using appropriate hardware, mount the curtain rods or wires according to your measurements. Ensure they are securely fastened to support the weight of the curtains.
5. Hang the Curtains in Gazebo
If using curtain rods, slide the curtain panels onto the rods and adjust them as needed. For wire installations, attach curtain clips or hooks to the top of the curtain panels and then hang them on the wires.
6. Adjust and Secure Gazebo Curtain
Make sure the curtains are evenly spaced and adjusted to your desired height. Use curtain tiebacks or clips to hold the curtains open or secure them to the sides of the gazebo when desired.
7. Test and Make Final Adjustments
Once the curtains are hung, test their functionality and adjust them as needed. Ensure the curtains can be easily opened and closed without any obstructions.
Remember to consider the weather conditions in your area and choose gazebo curtains that are suitable for outdoor use. It's also a good idea to remove the gazebo curtains during severe weather or when not in use to prolong their lifespan.
FAQs about Gazebo Curtains
Can you put curtains on a gazebo?
Yes, you can get curtains for your gazebo to block wind or sunlight when sitting outside. It is best to use thick, solid curtains to get the job done.
What curtains are best for the outside?
In my opinion, the best curtains for outer space are polyester. They do not fade even when exposed to all weather conditions.
How do I secure my gazebo curtains?
You can secure the curtains of your gazebo by tying them up. This keeps them clean and out of the way.
Concluding Gazebo Curtains Review
A short article on the best curtains for the gazebo is given so you can stay covered when sitting under the sky. These help you stay protected from wind and sunlight.
The best two curtains for gazebo, in my opinion, from the article above, are:
Hiasan Buffalo Plaid Pergola Curtains are the best because they are made with water-repellent material.
DREAM ART Curtains for Gazebo are the best because they are fade-resistant.
Hence you can use these curtains to save yourself from heat or rain. They can be set up easily and are manufactured with durable materials. These curtains can match your outer space as you get many color options. I hope the article will help you choose a good quality curtain for your gazebo.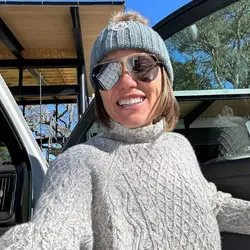 Hi, I am Nicole Arnold, founder of OutdoorSittings! I am very passionate about architect designing and love to design attractive gardens and backyards for people in Dallas. I have done Masters of Landscape Architecture (MLA) at Texas A&M University and have worked on several commercial and residential landscaping projects.
Following my passion for landscaping, I started OutdoorSittings to share my knowledge and creative ideas with people around the globe. Feel free to reach out to me at any time if you need assistance related to your backyard design or other outdoor architect queries.