In the world of fairy tales, somewhere far away from the palace, in the woods lies a gazebo surrounded by fireflies that light up the whole sky. A gazebo surrounded by fresh roses with light background music. I am sure I just described a scene from a Disney princess movie, but that is where the gazebo idea originated.
The idea of a gazebo is based on comfort and a place to share with your loved one; however, it is important to find the best place for the gazebo to feel all of the emotions shared above. The whole purpose of a gazebo is to have an isolated but magical safe spot. Maybe to enjoy an evening coffee or just have a cozy spot to retreat to at the end of the day.
Best Place For Gazebo Placement – Detailed Guide
Gazebo placement ideas can vary from person to person, but since there is a particular aesthetic attached to it, it looks beautiful in an isolated corner. Such corners can exist on the lawn next to the house or towards the back lawn against the house. At times people hire the services of an interior decorator or use their own opinions in order to have a good placement for a gazebo.
Things to consider to find ideal place for Gazebo placement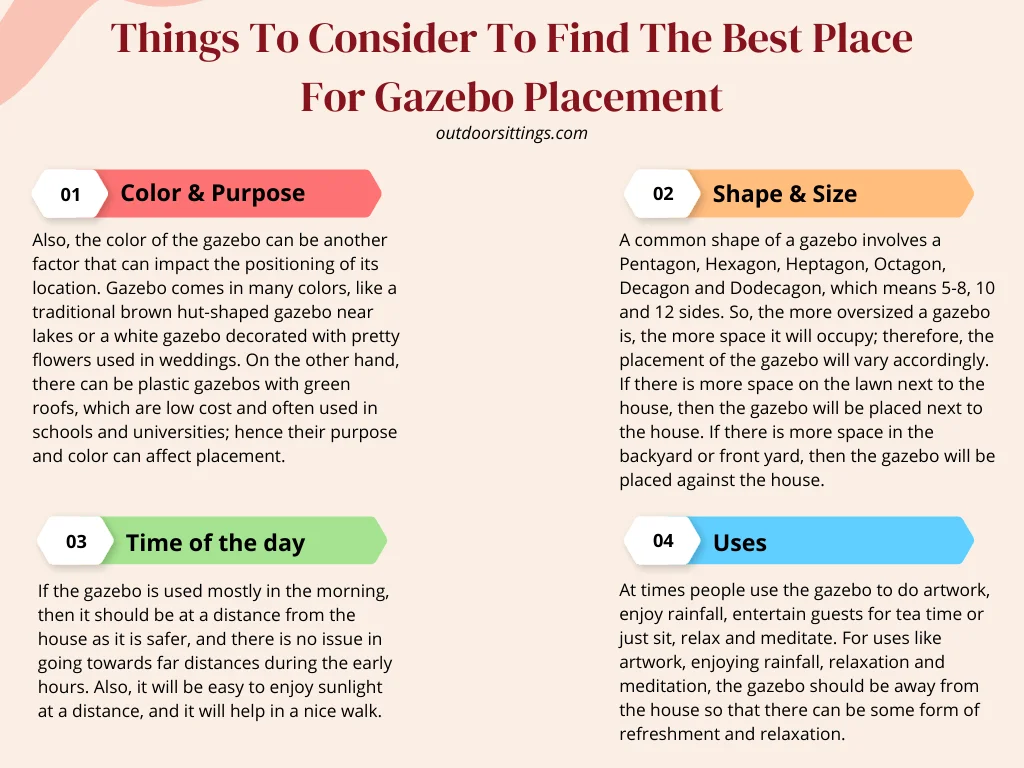 1. Color and Purpose
Also, the color of the gazebo can be another factor that can impact the positioning of its location. Gazebo comes in many colors, like a traditional brown hut-shaped gazebo near lakes or a white gazebo decorated with pretty flowers used in weddings.
On the other hand, there can be plastic gazebos with green roofs, which are low cost and often used in schools and universities; hence their purpose and color can affect placement.
2. Shape and Size
A common shape of a gazebo involves a Pentagon, Hexagon, Heptagon, Octagon, Decagon and Dodecagon, which means 5-8, 10 and 12 sides. So, the more oversized type of gazebo is, the more space it will occupy; therefore, the placement of the gazebo will vary accordingly.
If there is more space on the lawn next to the house, then the gazebo will be placed next to the house. If there is more space in the backyard or front yard, then the gazebo will be placed against the house. However, a small-shaped gazebo can be adjusted in any corner; hence there are many gazebo placement ideas based on shape and size.
3. Time of the day
If the gazebo is used mostly in the morning, then it should be at a distance from the house as it is safer, and there is no issue in going towards far distances during the early hours. Also, it will be easy to enjoy sunlight at a distance, and it will help in a nice walk.
If it is supposed to be at night, then it is best to be closer to the house so that midnight snacking can be done quickly and that one feels safe in the vicinity of their place. For windy areas, it is recommended to use best gazebos for wind.
4. Uses
At times people use the gazebo to do artwork, enjoy rainfall, entertain guests for tea time or just sit, relax and meditate. For uses like artwork, enjoying rainfall, relaxation and meditation, the gazebo should be away from the house so that there can be some form of refreshment and relaxation.
That should be done away from the house as such places inspire you to work. However, for the purpose of entertaining guests and tea parties, placement should be next to the house so that guests can be quickly taken to the gazebo and everyone can have a good time. Also, have a look at best gazebo for winter.
How far should the gazebo be from the house?
The distance that a gazebo should have from the house varies based on factors like its uses and the time of the day the gazebo will be used.
You may also be interested to read about best pop up gazebos
Concluding Gazebo Placement Guide
Gazebos allow your place to look enchanting and magical, not to mention cozy and relaxing. However, what matters the most is the best place for a gazebo and its placement based on its size, shape, purpose and time of use.
Moreover, a gazebo is a must for a lawn rather than having an awkward-shaped garden that needs constant maintenance. These gazebos can reduce costs and be the best place for a peaceful evening retreat.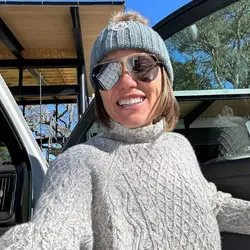 Hi, I am Nicole Arnold, founder of OutdoorSittings! I am very passionate about architect designing and love to design attractive gardens and backyards for people in Dallas. I have done Masters of Landscape Architecture (MLA) at Texas A&M University and have worked on several commercial and residential landscaping projects.
Following my passion for landscaping, I started OutdoorSittings to share my knowledge and creative ideas with people around the globe. Feel free to reach out to me at any time if you need assistance related to your backyard design or other outdoor architect queries.