Gazebos are outdoor structures designed to make your patio and gardens aesthetically more appealing. The gazebos can be used for a lot of purposes like outdoor dinners, barbecues, hot pools, screening, tea parties, décor, and more.
You can make them look more pleasing by adding some creativity like flowers, led lights, benches, insect screens, projectors, hangings, flooring, swings, and so forth. That's totally up to your budget and choice! Let's see what are the different types of gazebos.
11 Different Types Of Gazebos
Aside from the appearance point, I found gazebos more relaxing because all of us want some time in the fresh air, besides sunlight, under the moon, or so on to add a dose of harmony to our daily life. This is very important in the context of physical and mental health, and so could be a reason behind the increased demand for gazebos.
Over that, people also construct gazebos on their lawns to arrange romantic evenings for their loved ones and make casual moments special. The best thing to make the gazebo look pleasing, as well as functional, is to insert a table inside where you can have dinner, study, do your office work, have a mini party, have a table discussion, or whatever you like.
During the day or after, you can spend quality time in a gazebo with your friends, family, and loved ones; and a pinch of décor will make it more fun and unforgettable. When buying a gazebo, you need to look for different things, and among all quality construction matters the most.
Types Of Gazebos Based On Construction
The build quality is of prior consideration when you're buying the gazebos because it determines which material is used in making that particular gazebo. So, based on that material choice, I list down some gazebos types for your better understanding.
As a general idea, the material construction determines the durability, resistance, strength, stability, and resilience of the gazebo, so you cannot simply ignore it.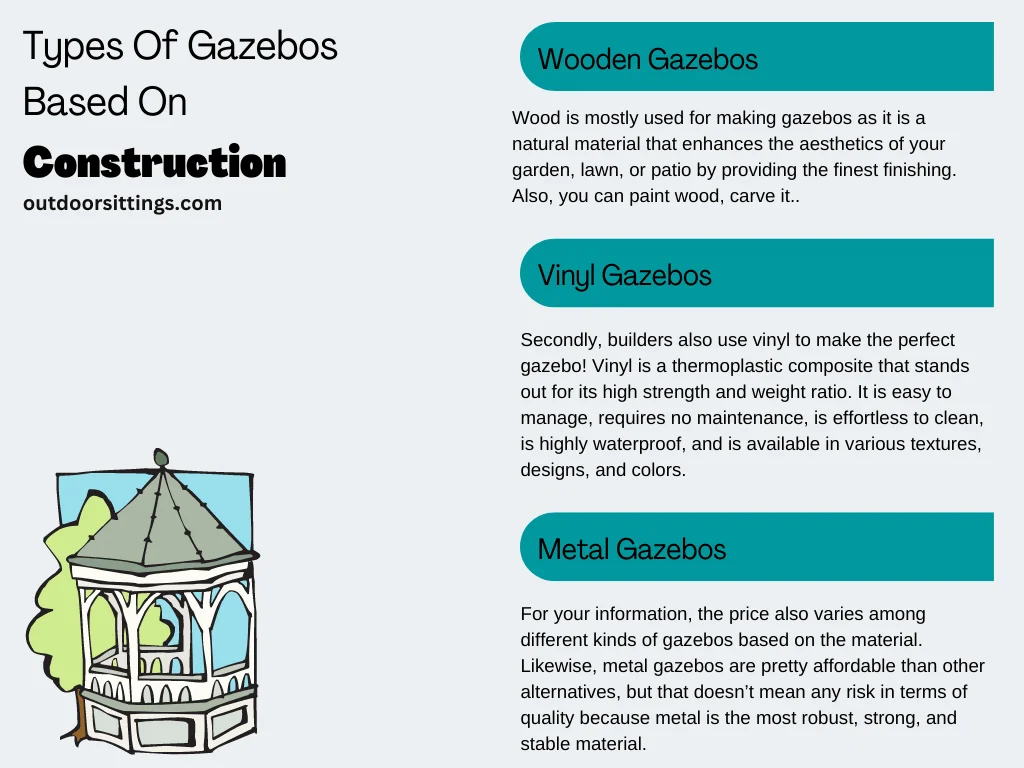 1. Wooden Gazebos
Wood is mostly used for making gazebos as it is a natural material that enhances the aesthetics of your garden, lawn, or patio by providing the finest finishing. Also, you can paint wood, carve it, and do other creative things to enhance the natural beauty of the wood gazebos. There are different kinds of woods: softwood, hardwood, plywood, and more, but more often builders use redwood and cedar to make gazebos.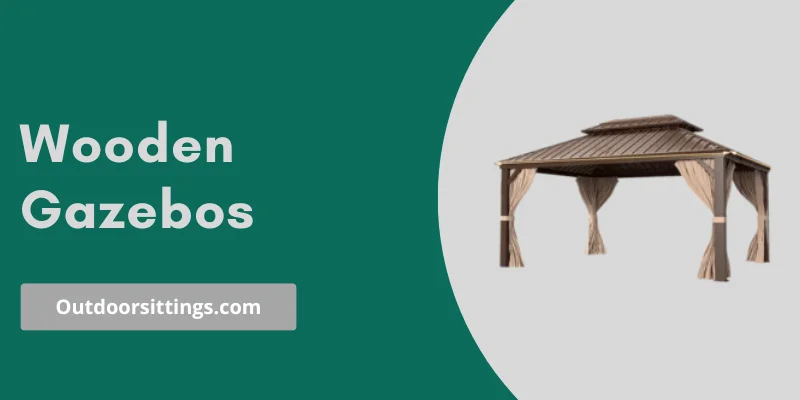 Redwood is lighter than plastic, which is one of the major reasons behind its increased demand in the market. Though its featheriness doesn't mean any compromise on quality, as redwood is strong and has excellent shear strength, typically five times more than that of plastic. On the other hand, cedar is also a top-notch choice for constructing a fine gazebo because it is long-lasting, sound-resistant, insect-repellent, and naturally pleasing.
2. Vinyl Gazebos
Secondly, builders also use vinyl to make the perfect gazebo! Vinyl is a thermoplastic composite that stands out for its high strength and weight ratio. It is easy to manage, requires no maintenance, is effortless to clean, is highly waterproof, and is available in various textures, designs, and colors. Also, you can paint the vinyl gazebo but make sure to use good quality weatherproof paint.
In my opinion, the constructors usually opt for vinyl gazebos because the material is easy to mold and deal with. Also, good for a user because it is lightweight and easy to assemble even for inexperienced persons. All-in-all, the vinyl gazebos are also good enough in terms of resistance, quality, and maintenance, but they are a bit flimsy when compared to wood or metals. Read a detailed comparison of Wood vs Steel vs Aluminum Gazebo.
3. Metal Gazebos
For your information, the price also varies among different kinds of gazebos based on the material. Likewise, metal gazebos are pretty affordable than other gazebo alternatives, but that doesn't mean any risk in terms of quality because metal is the most robust, strong, and stable material. The metal gazebos are also available in kits; if you're a homeowner and want to install a gazebo, you can do it by yourself.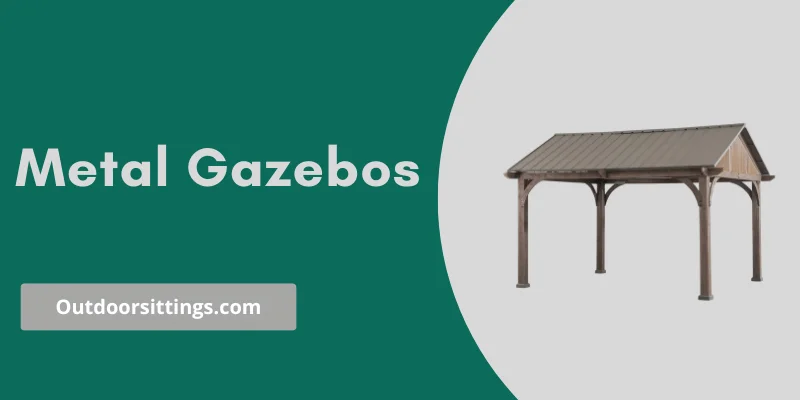 The only drawback of having a metal gazebo is "corrosion"—the real problem! But I found aluminum gazebos great in all aspects because it is less prone to rust, a lightweight, portable, strong, and long-lasting metal. You can also paint it using rust proof paint to provide a good finish and a dosage of extra protection.
You may also be interested to read about different methods to anchor a Gazebo to Pavers.
That's all for the material-based division of gazebos! I want to mention that maintenance is important because by taking good care you can prolong the shelf life of a product. Next, we will discuss the kinds of gazebos based on the top:
Types Of Gazebos Based On Top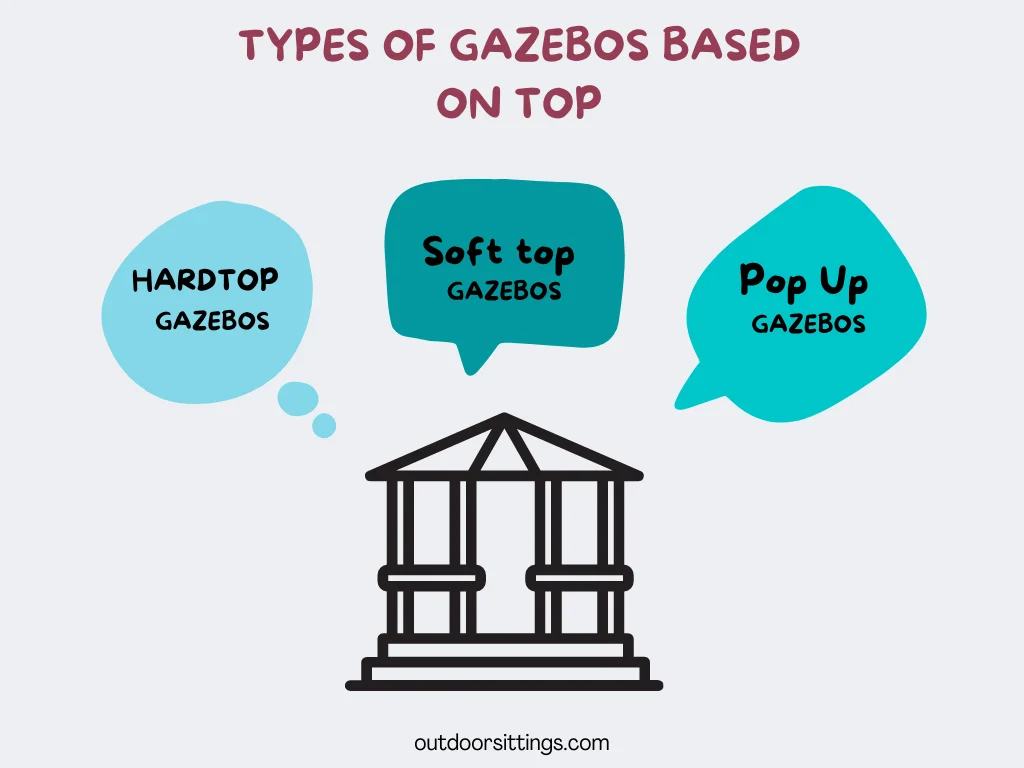 1. Hardtop Gazebos
As the term "hardtop" implies, a gazebo that has a hard roof is called a hardtop gazebo. What does the hard roof mean? It refers to solid materials, usually metals like steel and aluminum. You can go through my guide about steel roof gazebos.
In some cases, hardwood, strong polycarbonate, and vinyl are also used to make the upper part of the gazebo. The perks of having best hardtop gazebo is strength, durability, and resistance against external impact-causing factors.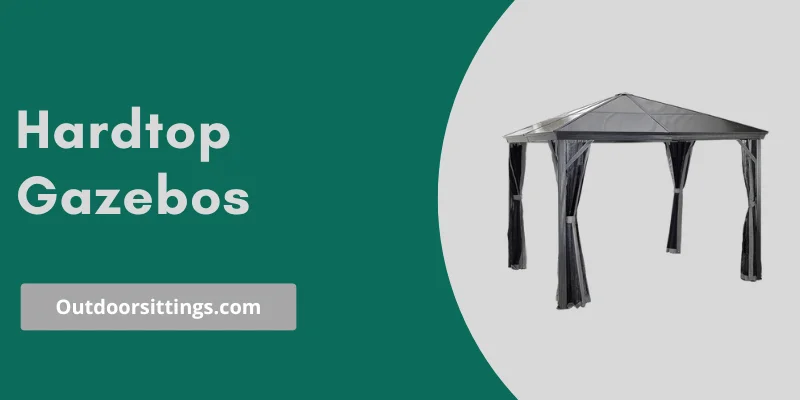 In my opinion, polycarbonate hardtop gazebos are not reliable to the maximum extent because of their plastic nature, which is flimsy in comparison to other tough materials, especially metal. But, side by side, the polycarbonate hardtops are inexpensive and let the filtered light enter into the gazebo – all credit goes to their transparency. So, it's up to you and your preferences related to the gazebo. Have a look at comparison of hardtop vs soft top gazebo.
The hardtop gazebos are the only choice you have if you're living in a part of the world that faces harsh weather like snow, rain, winds, intense sunny days, and more. This is because the hardtops are like a shell that keeps the interior of the gazebo safe and protective against weathering. The hardtops weigh around 600 lbs., so it's not a portable thing, which is a little downside. Have a look at some of the best gazebos for high winds.
2. Soft top Gazebos
Then comes the soft top gazebos, which are designed to fill the gap of hardtop gazebos. Soft top gazebos are lightweight, portable, and handy as compared to hard ones, and because lighter material is used in making these gazebos, they tend to be less expensive. Usually, the soft top gazebos include plastic, fabric, and other flimsy materials that provide top coverage.
The primary advantages of having a soft top gazebo include washable fabric, easy to install, clean, and manage, comparatively affordable and easily available in the market, lightweight and maneuverable, and comes in an array of designs. You can also soft top gazebos online and install them by yourself without using any fancy tools. However, if you're concerned about durability and stability, my vote is still for the hardtop gazebos.
3. Pop Up Gazebos
The pop up gazebos are also temporary gazebos for people who're looking for a casual or transitory thing. It takes only minutes to get in shape and gives you a gazebo feel in your garden, lawn, park, mountain site, or wherever you want. I must say the pop-up gazebo is extremely portable, lightweight, and user-friendly. Regardless of whether you're experienced or using the gazebo for the first time, there will be no issue dealing with pop-up gazebo.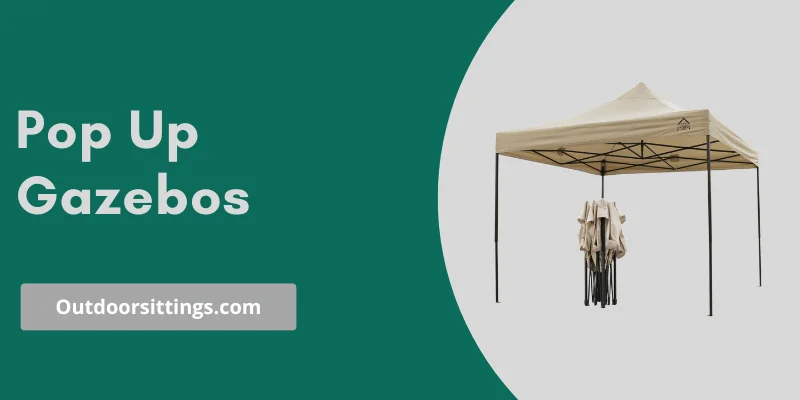 Aside from its portability, it is worth-having products for other benefits like fold-up design, pre-built metal frame, customization, wall paneling, proper doors, and durability. Believe me or not, if you handle the pop-up gazebo with care, it will last for years. The pop-up gazebos are easily available on Amazon.
People usually mess up the pop-up gazebos with tents, but it's not the same thing at all. The pop-up gazebo is made of mesh material, and also includes steel framing with proper fire retardancy, air ventilation, a foldable structure, doors, ceilings, and walls. Plus, these gazebos are roomy; you can even stand straight inside the pop-up gazebo. Also have a look at my detailed comparison of gazebo vs awning.
Types of Gazebos Based On Design
1. Folly Gazebos
The Folly gazebos were first constructed centuries back on the lands of wealthy people of that time. Their extravagant structure and aesthetics make them look ancient.
The folly gazebos are designed for decorative purposes and add an ornamental element to your front gardens. People who're obsessed with antique fashion mostly buy folly gazebos to enhance the artistic and ancient-like appearance of their place. You can also read about best places for gazebos.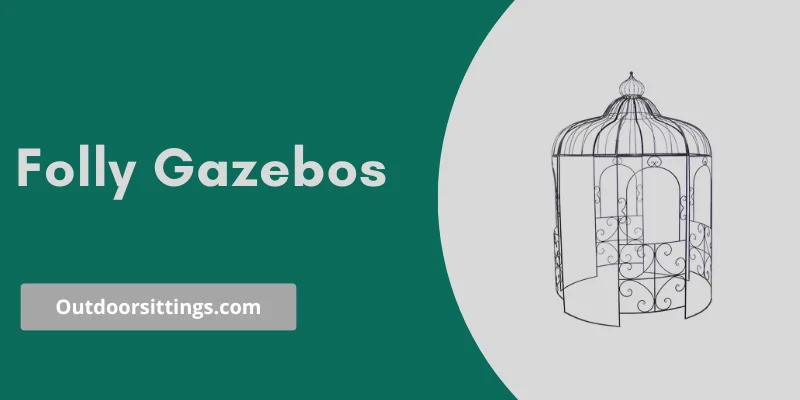 These fancy and attractive gazebos come in a range of designs, sizes, and shapes. You can choose one as per your choice, but for the folly gazebo, I don't recommend a large size. Go for something portable yet stable, and focus on looks more.
2. Pagoda Gazebos
Second are the pagoda gazebo, which is a large, wood-constructed, and durable gazebo designed by the Japanese for religious purposes. The pagoda gazebos are made of different kinds of wood and are typically costlier than other gazebos. However, their function is not limited to Japanese religion as pagoda gazebos are quite common around the globe for ornamental purposes due to their pleasing design.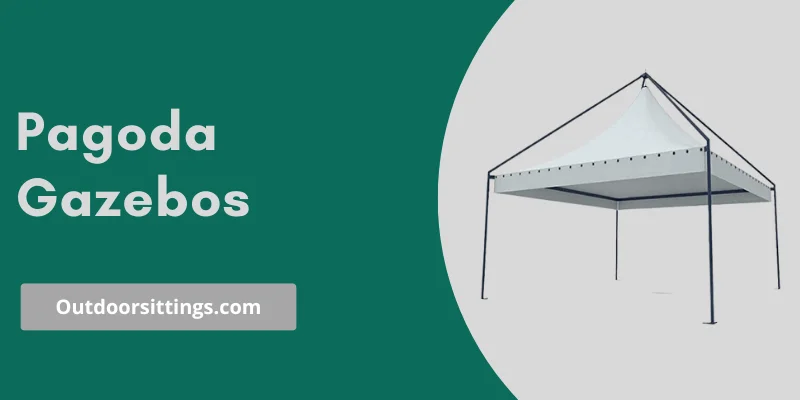 Usually, these gazebos have an oriental-style structure with carving and specific marks. The pagoda gazebo has pillars, roofs, walls, and tiers –supporting a roomy, stable, and heightened space. I have also seen some three-tiered pagoda gazebos as well in Asian countries.
3. Pergola Gazebos
The pergola gazebos are another unique type that follows a specific framework aiming to support plants. They are long-lasting, highly functional, popular, and adaptable all because of their well-oriented structure. Shortly, I found the pergola simple and easy to manage for all consumers for their climbing up roof and side, shady space for plants, usable sitting zone, and more.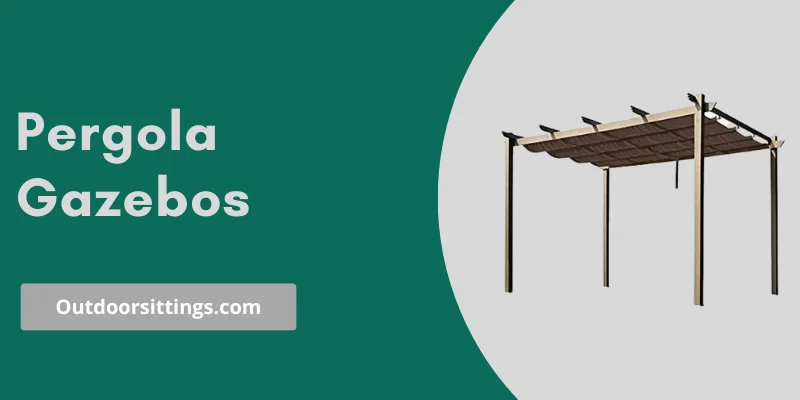 The best thing about a pergola is that it is compact in size so you can install one on the terrace of your house too. Isn't it amazing? The pergola gazebos come in simple yet artistic designs; you choose among different sizes but apparently, there are not many designs or color variations available. If you're a plant lover and have a space on your balcony, porch, or patio, you'll love having the pergola.
4. Rotunda Gazebos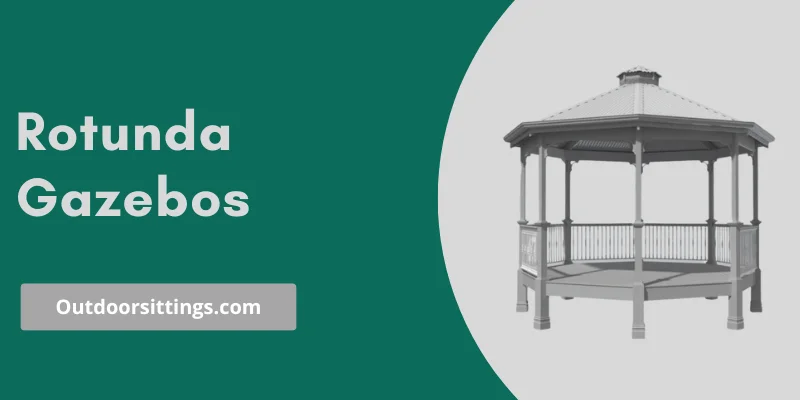 Rotunda is circular gazebos that consist of ring-like structures instead of typical pillars. The dome-shaped roof, wall-less standing, and artistic creation of these gazebos linked them to the historical architecture of Europe. I love how roomy these gazebos are in comparison to other types. While, "no walls" doesn't mean any compromise on stability as rotunda gazebos are strong, large, and durable.
5. Pavilion Gazebos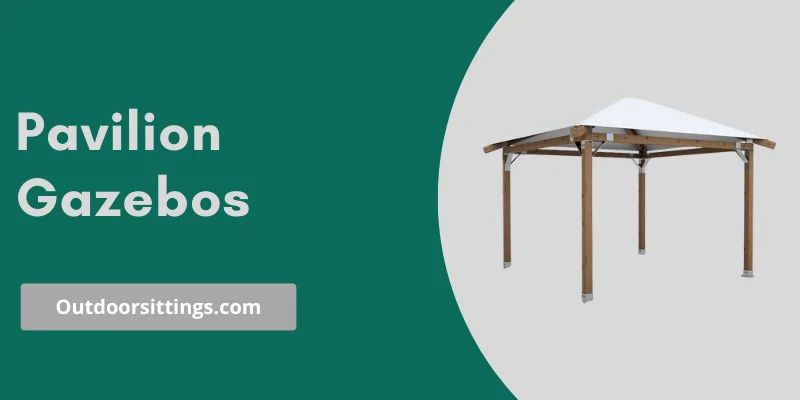 Last but not the least, the pavilion gazebos are simple compared to other types. These gazebos adopt the "open-air" structure and have four column-like pillars on the sides. The rest of the area is straightforward with a basic roof. If you're looking for an airy and roomy gazebo, there is no better choice than a pavilion gazebo.
FAQs about Gazebo Types
What is the difference between commercial and residential gazebos?
As the name implies, commercial gazebos are designed for commercial use like parks, religious reasons, or recreational sites, while residential ones are for homeowners who want to make their patios more pleasing and practical. Commercial gazebos are more durable, strong, resilient, and expensive than residential gazebos.
What is the best material for Gazebos?
I found wood most reliable when it comes to gazebos for its durability, stability, maintenance-friendliness, resistance, and non-conductive behavior. Other better materials are vinyl and aluminum.
Are gazebo kits any good?
If you're a creativity-philic and want to enhance the beauty of your garden, the gazebo kit is all that you need. The gazebo kit includes a foldable gazebo and some installation essentials through which you can mount the gazebo at your palace by yourself without any extra money, effort, time, and fancy gadgets. So yes, the gazebo kits are worthwhile!
Final Thoughts!
If you want to enrich the beauty and aesthetics of your patio and make quality time with your family unforgettable, there is no better choice than a picture-perfect gazebo. There are many kinds of gazebos depending on the material used in their construction, design, purpose, roof style, and more. Thus, I combined the information under one shadow in this article for your ease.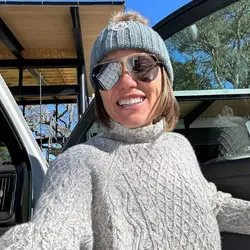 Hi, I am Nicole Arnold, founder of OutdoorSittings! I am very passionate about architect designing and love to design attractive gardens and backyards for people in Dallas. I have done Masters of Landscape Architecture (MLA) at Texas A&M University and have worked on several commercial and residential landscaping projects.
Following my passion for landscaping, I started OutdoorSittings to share my knowledge and creative ideas with people around the globe. Feel free to reach out to me at any time if you need assistance related to your backyard design or other outdoor architect queries.