Outdoor gazebos are a perfect addition to your backyard or garden because they provide soothing shade in the sun or other weather conditions. However, gazebos are used not only as an overhead shade but also to park your car, put a house, hold stuff, and many more things.
It is important to choose the right type of gazebo for your backyard or garden. That means your gazebo should have a solid roof structure or partially trellised sides to give a good backyard view. But which is perfect for your use? To get an answer about this, keep reading to choose between wood vs steel vs aluminum gazebo.
Wood vs Steel vs Aluminum Gazebo – Detailed Comparison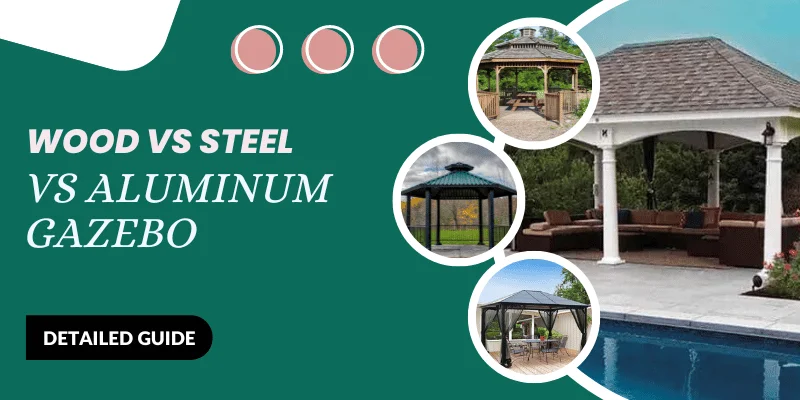 Whether you choose a steel roof gazebo, wood gazebo, or aluminum gazebo, there are certain considerations you should consider when choosing a wood vs steel vs aluminum gazebo for your backyard. This article will provide you with detailed information when it comes to buying a gazebo for your backyard.
What is a Wood Gazebo?
A wood gazebo is a great choice when you want to add a traditional look to your backyard. However, they are made from pressure-treated timber wood, which is painted to match your backyard design.
What is a Steel Gazebo?
Some roofs of metal gazebos are made with polycarbonate material with a retractable roof. However, a steel gazebo roof is made of galvanized steel in order to give more stability and strength.
What is an Aluminum Gazebo?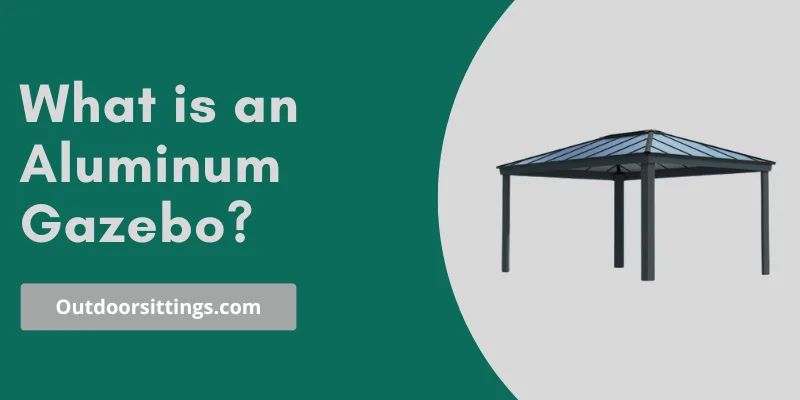 Aluminum gazebos are considered to be ideal for outdoor use because aluminum gazebos are almost three times lighter than steel gazebos. Moreover, aluminum gazebos are 100% recyclable and give a high form of stability. They are also considered to be rust-free. You can also have a look at best hardtop gazebos.
Wood Gazebo vs Metal gazebo
The durability of wood gazebo structures can last up to several years if given proper care to it. However, wood gazebos are very vulnerable to weather changes when they are not maintained from time to time. If they are not taken care of properly, you can easily see cracks or holes inside the wood. They sometimes also rot.
On the other hand, steel gazebos are very much effective when it comes to durability. They are made with coated steel that easily withstands extreme weather conditions like rain or snowfall and make them ideal gazebos for winter. However, metal gazebos do not easily rust or fade in the sun. Therefore, wood gazebos require a lot of maintenance because the wood, after some time, easily gets mold and damaged. Furthermore, they can also be attacked by termites.
That is why it is recommended to maintain a wood gazebo each and every year. Undoubtedly, a wood gazebo is more expensive because it requires yearly maintenance. If we talk about metal gazebos, we do not need to worry about their yearly repair or maintenance. They look new for a couple of years. Therefore, these steel gazebos do not rot, and there are also no chances of termites attacking.
In order to maintain your steel gazebo, all you need to do is to wash its surface with a detergent. Wooden gazebos also require high labor costs because these structures most often reach a pile of pressure-treated wood, whereas steel gazebos are much easier to assemble. You can also read about best gazebos for windy areas.
Steel Gazebo vs Aluminum Gazebo
Undoubtedly, aluminum gazebos provide much more stability than steel gazebos. However, when metals like steel are exposed to oxygen, they oxidize, whereas the aluminum layer grows only by 0.5mm, which forms a protective layer and protects itself from rust.
Therefore, you don't need to worry about rust on aluminum gazebos because they can easily protect them from extreme weather conditions. Also, your aluminum gazebo cannot get small scratches due to the protective oxide layer.
Steel gazebos start to get rust formation on them. If we talk about steel gazebos, they are not that rust preventive as compared to aluminum gazebos. Additionally, when there is air humidity and moisture in the weather. If you live near the seaside and have steel gazebos, they can easily get affected and start to rust soon after some time.
Furthermore, people are buying more aluminum gazebos than steel gazebos because of their longer operating use. Hence, aluminum gazebos protect your backyard from sun, rain, and snow in all seasons.
There are also waterproof aluminum gazebos available which proved to be excellent in contrast to steel gazebos. There are also more advantages of aluminum gazebos over steel gazebos. Therefore, aluminum gazebos are lighter in weight as compared to steel gazebos. Aluminum gazebos are number 1 and unbeatable when compared to other gazebos.
However, aluminum weighs only a third, and the gazebos made from aluminum are lighter in weight than steel gazebos. Moreover, aluminum gazebos have lighter weight; they can also be transported from one place to another with less effort. Furthermore, aluminum gazebos are 100% recyclable.
Today, the recycling of aluminum is playing an important role worldwide. We have seen most of the chocolates are wrapped in aluminum foil because they are easily recyclable. When it comes to strength, both aluminum and steel are perfect for gazebo frames.
Most of the people think steel is denser and heavier, thus providing more strength. However, gazebos manufacturers are now designing thicker bars of aluminum frames to match the strength of steel frames. If your core focus is related to strength, you can choose one of these metal gazebos for your backyard.
You may also want to know how to anchor gazebo to pavers
Final Thoughts
Although wood, steel, and aluminum gazebos are popular and available in the market. Therefore, it depends upon the people's needs and preferences regarding which gazebo they would like to add to their backyard. However, based on all the factors that have been described in this article.
Now, when people search about wood vs steel vs aluminum gazebo, they know which gazebo they need to buy for their backyard. Therefore, you should know before buying which gazebo would be perfect for your backyard and then buy accordingly. Undoubtedly, if you are looking for a long-term gazebo that requires less maintenance, you should definitely consider an aluminum gazebo.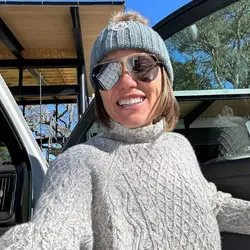 Hi, I am Nicole Arnold, founder of OutdoorSittings! I am very passionate about architect designing and love to design attractive gardens and backyards for people in Dallas. I have done Masters of Landscape Architecture (MLA) at Texas A&M University and have worked on several commercial and residential landscaping projects.
Following my passion for landscaping, I started OutdoorSittings to share my knowledge and creative ideas with people around the globe. Feel free to reach out to me at any time if you need assistance related to your backyard design or other outdoor architect queries.