Adding a gazebo to your garden is one of the best things you can do. The gazebo gives happy vibes and enhances the attraction of your garden. You can use different types of gazebos, which totally depends upon your choice of preference. The top of the gazebo is one of the primary things you look for while installing one.
The two most famous and demanding gazebo tops are the hardtop and soft top. Both tops are best on their own but only differentiate from each other in some aspects. Well, in this article, I have explained in detail the difference between hardtop vs. soft-top gazebos to make your selection super easy. Read the article to know the differences between different gazebo tops to pick the most suitable one.
Hardtop Vs Soft Top Gazebo
Having a gazebo in your garden gives an amazing view and also a demanding place to sit. The Gazebo addition will surely change the overall vibe of your garden. If you want a sitting place in your garden that fully protects you from the sun, then that place is surely where you can install a gazebo. The best thing about having a gazebo in your garden is that you can simply enjoy any weather as it gives proper coverage to your sitting area.
You can enjoy the bright sunny day, cool environment, or rainy day by just sitting inside the gazebo. It is one of the best rooftops that you can have in your garden. When it comes to rooftops, the gazebo has several different types of rooftops, while the most commonly used are hardtop vs. soft-top. You need to follow the article to know which kind of gazebo is most suitable to use.
Major Differences between Hardtop and Soft-Top Gazebo
Before you make a decision, it is essential that you should know which top gazebo is better to buy. Here are some major differences between hardtop vs. soft-top gazebos that will clearly give you a sense of buying the right one according to the conditions required. Read the differences to make your decision soothing.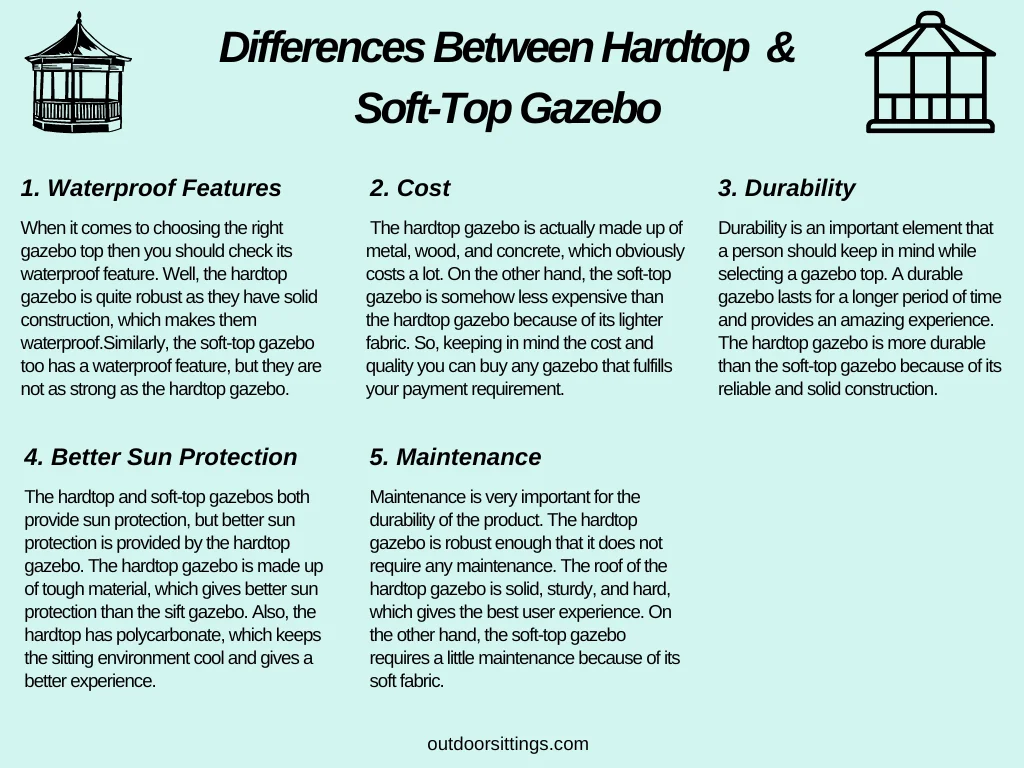 1. Waterproof Features
Leakage of water during a heavy rain will surely impact your sitting environment. When it comes to choosing the right gazebo top then you should check its waterproof feature. A good waterproof gazebo top will keep you dry and reduce the chances of water leakage. Well, the hardtop gazebo is quite robust as they have solid construction, which makes them waterproof.
The hardtop gazebo has a baked enamel coating, which prevents the flow of water through the gazebo frame. Similarly, the soft-top gazebo too has a waterproof feature, but they are not as strong as the hardtop gazebo. So, if you are looking for a waterproof feature, then a hardtop gazebo should be your choice. Also read about best gazebos for winter.
2. Cost
Cost is one of the primary things that people keep in mind before buying anything. Well, if you are thinking about adding a gazebo to your garden and the gazebo top is still not decided, then you are at the correct place. The major differences between a hardtop gazebo and a soft-top gazebo are the price of each. It is very clear that the hardtop gazebo is highly expensive because of its solid construction and the costly material used.
The hardtop gazebo is actually made up of metal, wood, and concrete, which obviously costs a lot. On the other hand, the soft-top gazebo is somehow less expensive than the hardtop gazebo because of its lighter fabric. So, keeping in mind the cost and quality you can buy steel roof gazebo or aluminum gazebo according to your payment requirement.
3. Durability
Durability is an important element that a person should keep in mind while selecting a gazebo top. A durable gazebo lasts for a longer period of time and provides an amazing experience. The hardtop gazebo is more durable than the soft-top gazebo because of its reliable and solid construction. The hardtop gazebo is more stable and can withstand all weather.
4. Better Sun Protection
The hardtop and soft-top gazebos both provide sun protection, but better sun protection is provided by the hardtop gazebo. The hardtop gazebo is made up of tough material, which gives better sun protection than the sift gazebo. Also, the hardtop has polycarbonate, which keeps the sitting environment cool and gives a better experience.
5. Maintenance
Maintenance is very important for the durability of the product. The hardtop gazebo is robust enough that it does not require any maintenance. The roof of the hardtop gazebo is solid, sturdy, and hard, which gives the best user experience. On the other hand, the soft-top gazebo requires a little maintenance because of its soft fabric.
Frequently Asked Questions
How long do hardtop gazebos last?
Well, the hardtop gazebos are made up of strong materials and can last for almost 10-20 years or even more.
How long do soft-top gazebos last?
The soft-top gazebos are made up of cheap quality fabric so they can only last for 2-3 years.
Can you leave a hardtop gazebo up all year?
Yes, you can leave the hardtop gazebo up all year as they are powerful enough to bear every environmental condition.
Are hardtop gazebos loud in the rain?
The good news is that the hardtop gazebo is not loud in the rain.
Final Thoughts
Well, I hope that after reading this article you can make a good decision about gazebo tops. Keeping in mind all the above important points, you can select the right gazebo top for your garden. To make it more simple, I simply recommend using the hardtop gazebo as it is tough, a good protector, and better in all aspects as compared to the soft top gazebo.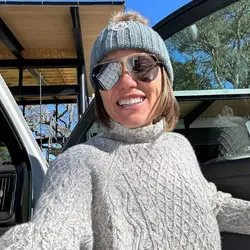 Hi, I am Nicole Arnold, founder of OutdoorSittings! I am very passionate about architect designing and love to design attractive gardens and backyards for people in Dallas. I have done Masters of Landscape Architecture (MLA) at Texas A&M University and have worked on several commercial and residential landscaping projects.
Following my passion for landscaping, I started OutdoorSittings to share my knowledge and creative ideas with people around the globe. Feel free to reach out to me at any time if you need assistance related to your backyard design or other outdoor architect queries.