Nothing is more perfect than spending time sitting outdoors and enjoying the fresh air in a peaceful state of mind. However, enjoying beautiful weather can sometimes become very challenging when there is no shelter.
Whether you are going in the morning, afternoon or any other time, there is always a need for an overhead shelter that protects you from afternoon showers, sunlight or any other weather condition. Sometimes, when you arrange a party, it starts to rain, which leads guests to rush quickly towards the indoors.
Also, spending too much time in your backyard results in a tan or sunburned neck. You definitely get annoyed, don't you? Now is the time you need to think about which shelter you need to place in your backyard. Therefore, have a look at a detailed comparison of gazebo vs cabana to help to you make the right choice.
Gazebo vs Cabana – Detailed Comparison
When we compare gazebo vs cabana, both are considered perfect for outdoor sitting, however, there are some major differences. In this article, we have highlighted which overhead shelter between Gazebo and Cabana would be best for your backyard.
What is a Cabana?
A cabana is a tent-like, free-standing outdoor structure that is designed to provide shade. Let's talk about its appearance, which resembles a gazebo. However, a cabana has three lightweight walls made of fabric, and the roof is made from metal or wood.
Hence, cabanas are small in size, and they are also used as dressing rooms. Usually, you see cabanas on beaches or in poolside areas. Nowadays, poolside cabanas are made with steel, wood, and aluminum frames.
Furthermore, the choice of the material will depend upon your preferences and your budget. The size of cabanas is 10 by 10 ft / 3.05 by 3.05 m, but it also varies if someone wants a larger cabana in their backyard.
Benefits of Cabana
1. Provides shaded cover
In cabanas, parents can easily sit and watch their kids. They are also used to change clothes before going to the beach or pool.
2. Installation of accessories
In cabanas, you can install some household stuff like plumbing, a kitchenette, and a small bar to make the cabana for your use.
Disadvantages of Cabana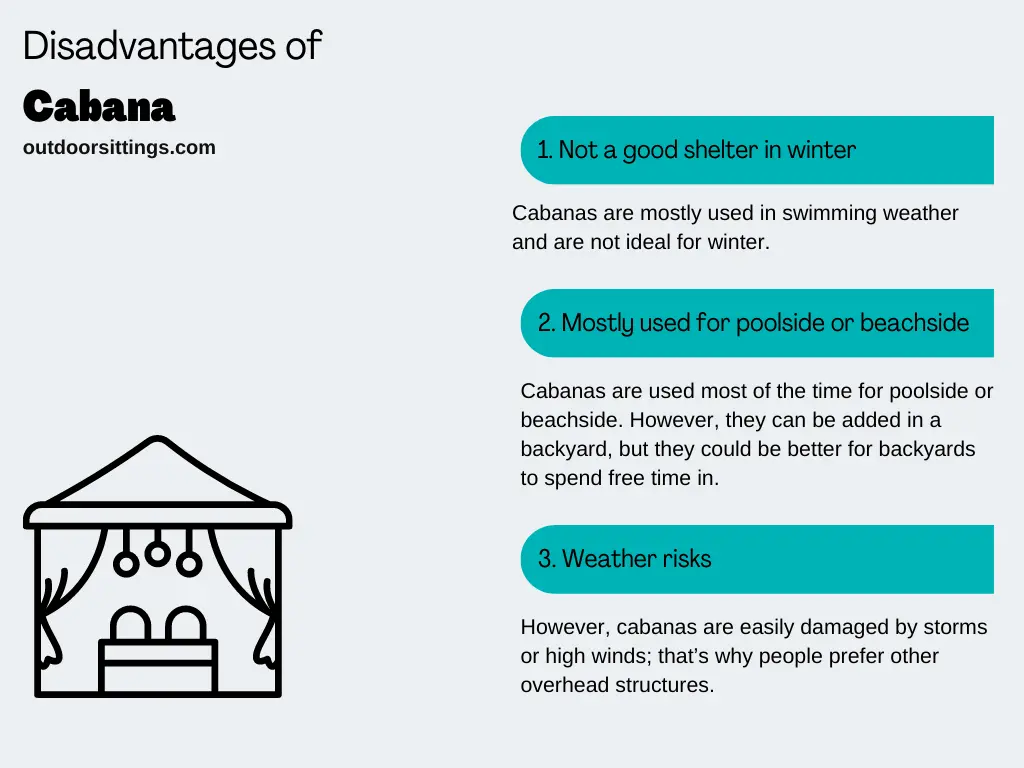 1. Not a good shelter in winter
Cabanas are mostly used in summer weather and are not ideal for winter whereas gazebos are best for winter.
2. Mostly used for Poolside or Beachside
Cabanas are used most of the time for poolside or beachside. However, they can be added in a backyard, but they could be better for backyards to spend free time in.
3. Weather Risks
However, cabanas are easily damaged by storms or high winds; that's why people prefer other overhead structures like gazebos for windy areas.
What is a Gazebo?
Gazebos are free-standing structures that are also known as Belvedere or summerhouses. They have a closed roof with hexagonal, octagonal, and circular shapes.
Therefore, gazebos have closed roofs that protect them from rain, sun, and other weather conditions. However, most of the types of gazebos are made with wood, but they are also available in aluminum or iron. Have a look at best aluminum gazebos.
Although, these days, gazebos have varieties regarding their size. Small models are perfect for enjoying your backyard view, whereas larger models are equipped with comfortable seating and kitchen appliances that give a fantastic look to your backyard.
Moreover, gazebos are much similar to canopies, however, there are some difference which you can learn in my canopy vs gazebo comparison article. Gazebos are perfect for privacy because they have sidewalls and enclosed roofs that provide shade and privacy from neighbors.
Benefits of Gazebos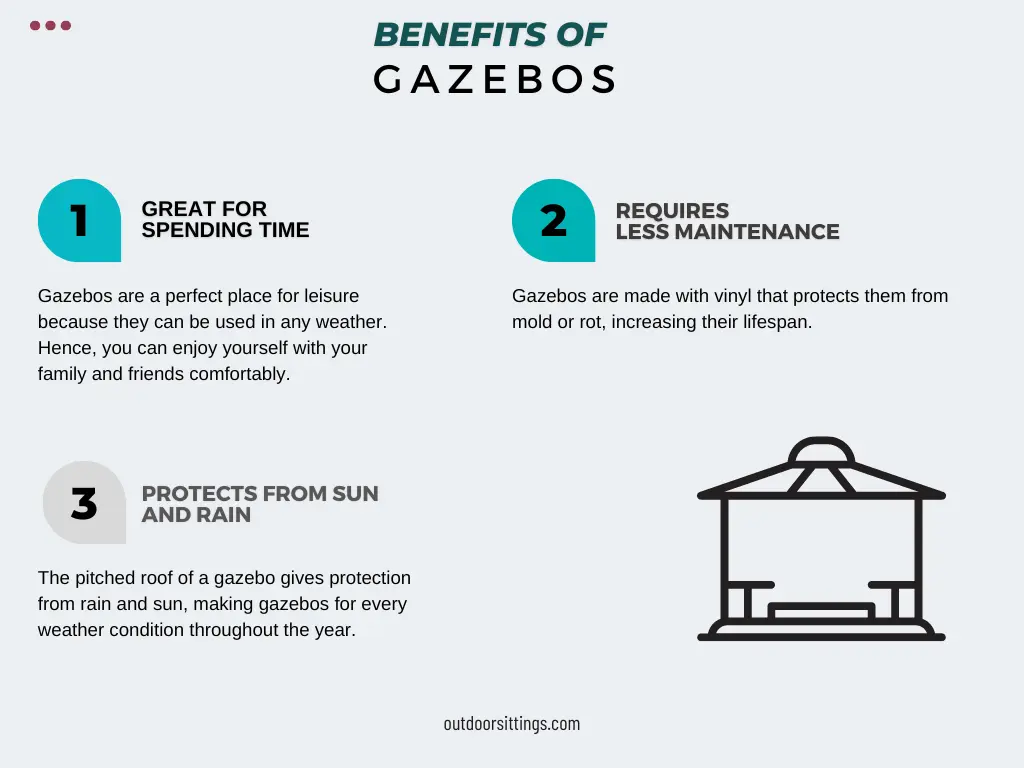 1. Great for spending time
Gazebos are a perfect place for leisure because they can be used in any weather. Hence, you can enjoy yourself with your family and friends comfortably.
2. Requires less maintenance
Gazebos are made with vinyl that protects them from mold or rot, increasing their lifespan.
3. Protects from Sun and Rain
The pitched roof of a gazebo gives protection from rain and sun, making gazebos for every weather condition throughout the year.
You can also read a detailed guide about benefits of gazebos
Disadvantages of Gazebos
1. Not suitable for a small garden
However, gazebos need to be framed in the right position because of their attractive structure. A gazebo usually requires more space in the backyard or garden, so a small garden is not suitable for a gazebo.
2. Gazebos are expensive
Gazebos are more expensive than pergolas or arbors because they are made with timber to protect them from rot. They are available in octagonal or hexagonal shapes, and erecting them requires a professional carpenter.
Also read a detailed guide on difference between pergola and gazebo.
3. Gazebos can't move or transfer
Therefore, larger gazebos must be supported on the floor, so they are fixed on the ground. Hence, a gazebo can't be moved or transferred to any other place in the backyard once they are fixed so make sure to place gazebo at right place.
Final Thoughts on Gazebo vs Cabana
Now, the question comes to our mind: which one is perfect between Gazebo and Cabana? Those who want a permanent solution should consider a gazebo because cabanas are a temporary solution for protecting yourself from rain or sun.
However, comparing gazebo and cabana depends on the needs and preferences of the people and which structure they want to add to their backyard.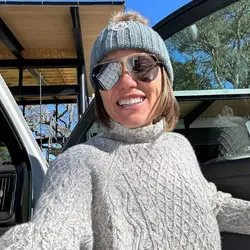 Hi, I am Nicole Arnold, founder of OutdoorSittings! I am very passionate about architect designing and love to design attractive gardens and backyards for people in Dallas. I have done Masters of Landscape Architecture (MLA) at Texas A&M University and have worked on several commercial and residential landscaping projects.
Following my passion for landscaping, I started OutdoorSittings to share my knowledge and creative ideas with people around the globe. Feel free to reach out to me at any time if you need assistance related to your backyard design or other outdoor architect queries.