Imagine it would be perfect if you have a shady spot in your garden. It makes you feel comfortable when you spend some time outdoors. However, there are certain options which you can choose to get some shade in your backyard.
It depends on you which shade of source would be perfect for your backyard space and according to your choice. If you want best protection from rain, hail, snow or sun gazebos and canopies come first in the list and they are proved to be a great investment in this regard.
Gazebo vs Canopy – In-depth Comparison
When we compare gazebo vs canopy to help you choose which one would be perfect for you. Mainly, it depends upon your needs and preferences which one you would like to add in your backyard. In this article, we have discussed in detail about the benefits and components of a gazebo and a canopy and mentioned the differences between both of them.
What is a Gazebo?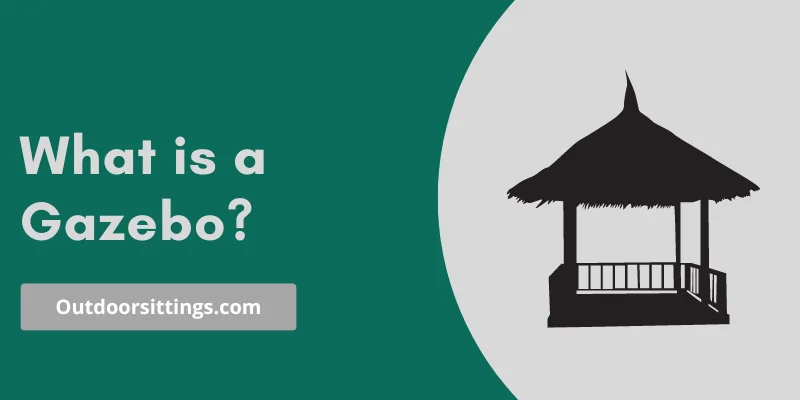 Gazebos are a perfect shade structure that are best for your garden and backyard. They are made from wood to create a permanent structure, but their metal structures are also available. However, gazebos, which are made from wood, are designed in an octagonal and hexagonal shape. They have an enclosed roof, walls, and a comfortable built floor.
Although, gazebos are much similar to canopies and some gazebos have vented polyester and a four-legged metal. However, gazebos provide more privacy than canopies because they have enclosed roofs and sidewalls which allow more shade and better privacy from neighbors. Also, winter gazebos protect from cold weather during Christmas and New Year parties.
Purpose of a gazebo
Most of the gazebos have a hard roof that provides shade from direct sunlight. Furthermore, they are also decorated for outdoor events like weddings, parties, birthdays, reunions, and anniversaries. However, you can place a gazebo in your backyard in order to fill an empty area or to add more beauty to the surrounding.
Merits Of Gazebos
Following are the merits of gazebos which help you to understand more their importance in your backyard.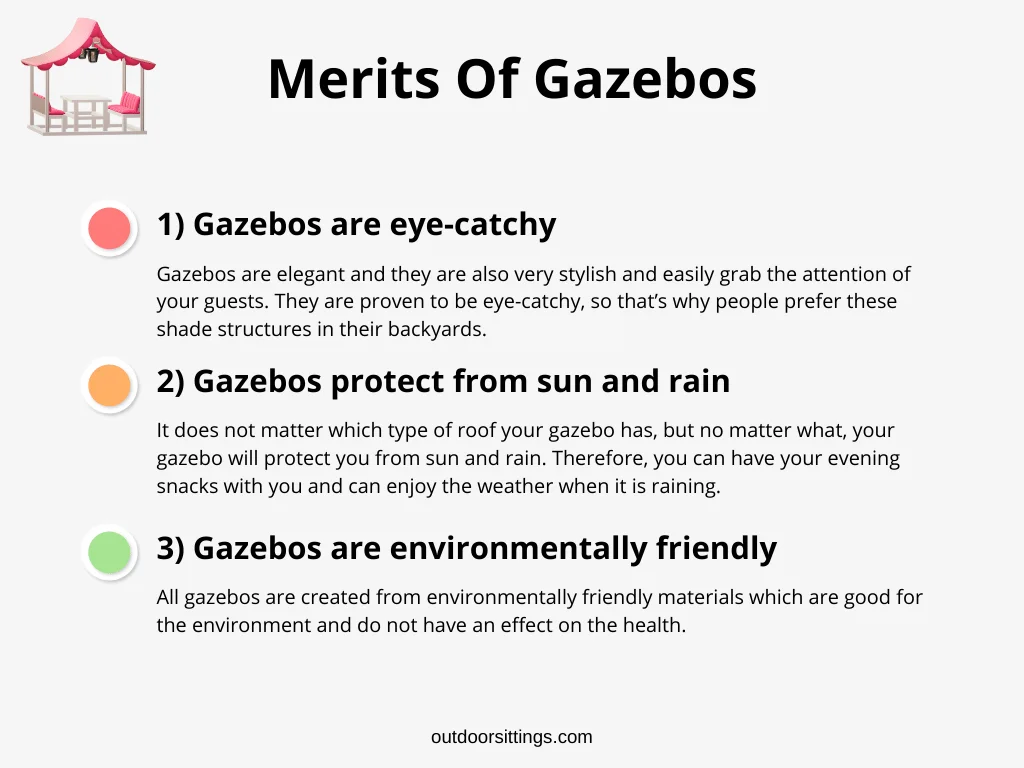 1. Gazebos are eye-catchy
Gazebos are elegant and they are also very stylish and easily grab the attention of your guests. They are proven to be eye-catchy, so that's why people prefer these shade structures in their backyards.
2. Gazebos protect from sun and rain
It does not matter which type of gazebo roof you has, but no matter what, your gazebo will protect you from sun and rain. Therefore, you can have your evening snacks with you and can enjoy the weather when it is raining.
3. Gazebos are environmentally friendly
All gazebos are created from environmentally friendly materials which are good for the environment and do not have an effect on the health. Also have a look at difference between cabana and gazebo.
What is a Canopy?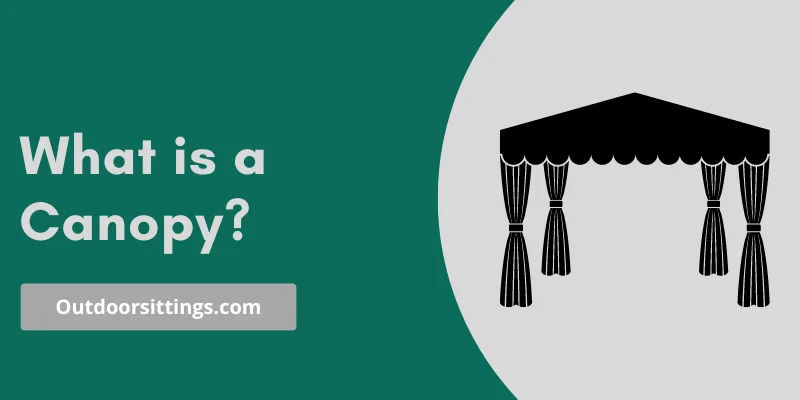 A canopy is used to describe an overhead structure that provides shade and shelter. Therefore, the structure of the canopies is made both from glass and metal, but they are also made from fabric and they are supported by four metal posts. However, they are used on both a temporary and a permanent basis.
Canopies are available in different styles and colors in order to match with your garden or backyard. Although, they provide perfect outdoor shade with a similar purpose to gazebos.
Merits Of Canopy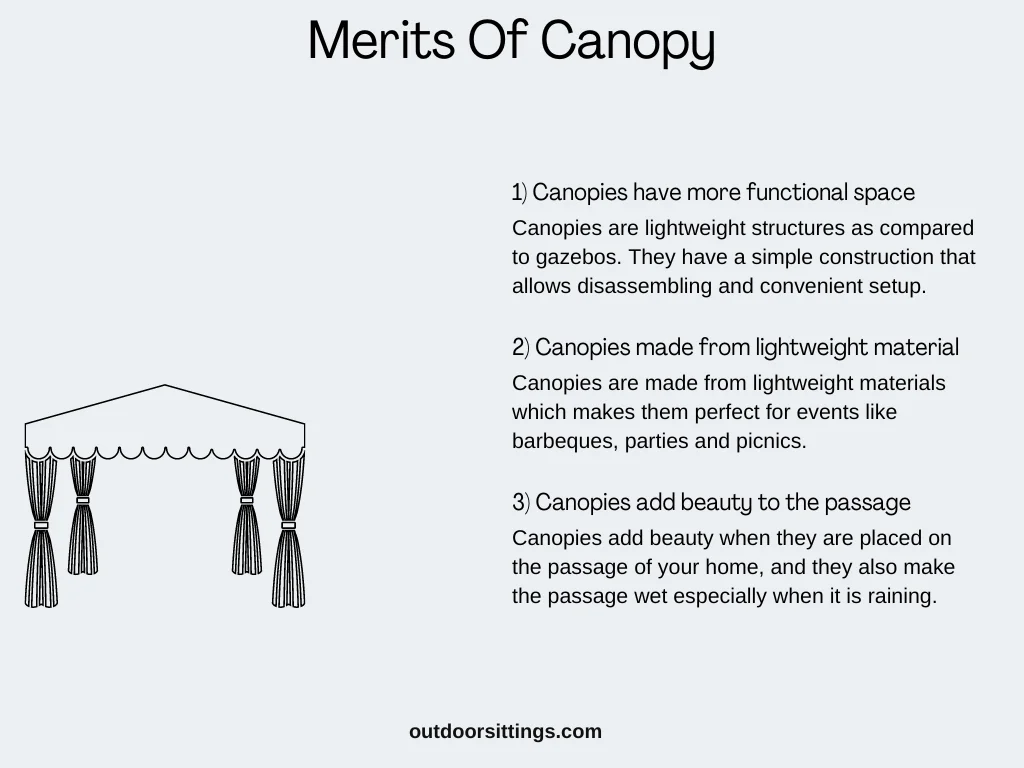 Following are the merits of canopy which makes them different from the rest of the other overhead shade providers.
1. Canopies have more functional space
Canopies are lightweight structures as compared to gazebos. They have a simple construction that allows disassembling and convenient setup.
2. Canopies made from lightweight material
Canopies are made from lightweight materials which makes them perfect for events like barbeques, parties and picnics.
3. Canopies add beauty to the passage
Canopies add beauty when they are placed on the passage of your home, and they also make the passage wet especially when it is raining.
You can also a detailed comparison of Gazebo vs pergola vs pavilion vs arbor.
Gazebo vs Canopy: What is the difference?
If you are searching for gazebo vs canopy then gazebo would be the perfect choice for you. When you incur your cost, gazebos are more reasonable because they are for a long time period, whereas the cost of canopy will last for months or years.
Moreover, most of the canopies are light in weight and on the other hand gazebos are larger and have a sturdy structure. Therefore, gazebos can also easily withstand harsh weather conditions. Here's a comparison table for Gazebos vs Canopies: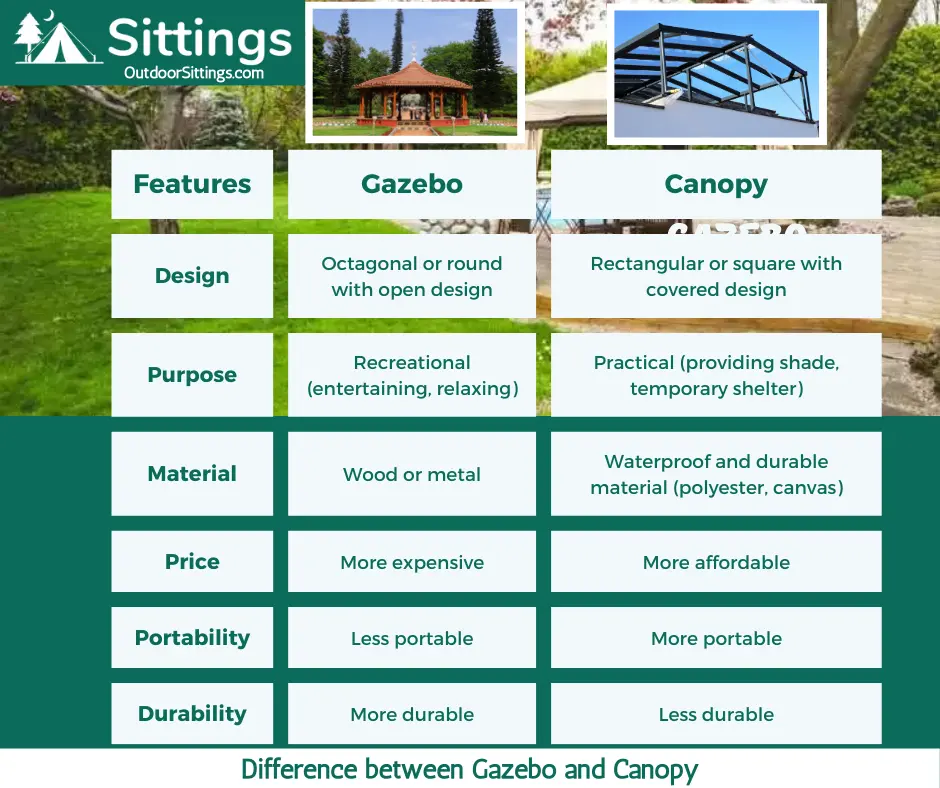 Final Thoughts
No matter which structure you choose for your backyard or garden. Therefore, when people compare gazebo vs canopy, they prefer on the basis of their choice. However, both the gazebo and canopy provide shade. When you place a gazebo or canopy in your backyard, they will not only grab the attention of your guests but also add value to your house.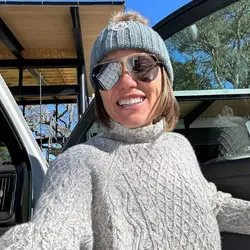 Hi, I am Nicole Arnold, founder of OutdoorSittings! I am very passionate about architect designing and love to design attractive gardens and backyards for people in Dallas. I have done Masters of Landscape Architecture (MLA) at Texas A&M University and have worked on several commercial and residential landscaping projects.
Following my passion for landscaping, I started OutdoorSittings to share my knowledge and creative ideas with people around the globe. Feel free to reach out to me at any time if you need assistance related to your backyard design or other outdoor architect queries.